Great Grey Owl at the nest built by Finnature
Finland
ABOUT FINNATURE
Ethics and Sustainability
Responsible nature tour operator
Finnature is an official and responsible tour operator specializing in bird and wildlife photography tours in Finland and abroad. Our mission is to raise public perception about Finland's invaluable nature among the wide public and decision makers. With our actions, we at Finnature pursue to show that nature has more value than the income from forest logging or mineral mining. All species alike are more valuable alive than dead. In addition, when carried out responsibly, nature tourism will bring income to landowners and local economy as well. We always keep the group size limited on our tours. In this way our tours will impact nature as little as possible while sharing experiences.
Respect for nature
Nature's welfare is one of the most important values for Finnature. We believe that respect for nature is built by own experiences in nature. Finnature's owners Jari and Kaisa Peltomäki visit schools regularly to show their images of nature and tell about the importance and beauty of nature to children and young.
Finnature team members are nature lovers
Finnature's owners and guides are active birdwatchers and wildlife photographers. Most of us have taken part in a lot of voluntary work in non-governmental organizations such as ornithological, nature conservation and nature photography societies. We love nature and spend a lot of time out there at our spare time as well.
Annual nest box tradition – our way of helping the Owls
During decades, Finnature has established an extensive network of nest boxes and artificial stick nests in Oulu and Kuusamo regions. Sadly, suitable nesting sites for Owls are difficult to find in Finland's commercially harvested forests because forestry is more efficient than ever and old forests are becoming rarer. This shows not just in the breeding success of Owls but also in numbers of all forest birds. Indeed, one third of Finland's forest birds are endangered. We at Finnature set up artificial nests each year for Owls but also for other species as well. For example, Redstart, Tits and Wryneck can benefit from additional nest sites. We know the habitat requirements of Owls very well and breeding results in our nest boxes and artificial nests have been good. In a good year, there can be dozens of Boreal, Ural, Pygmy and Great Grey Owls breeding in nest sites provided by us!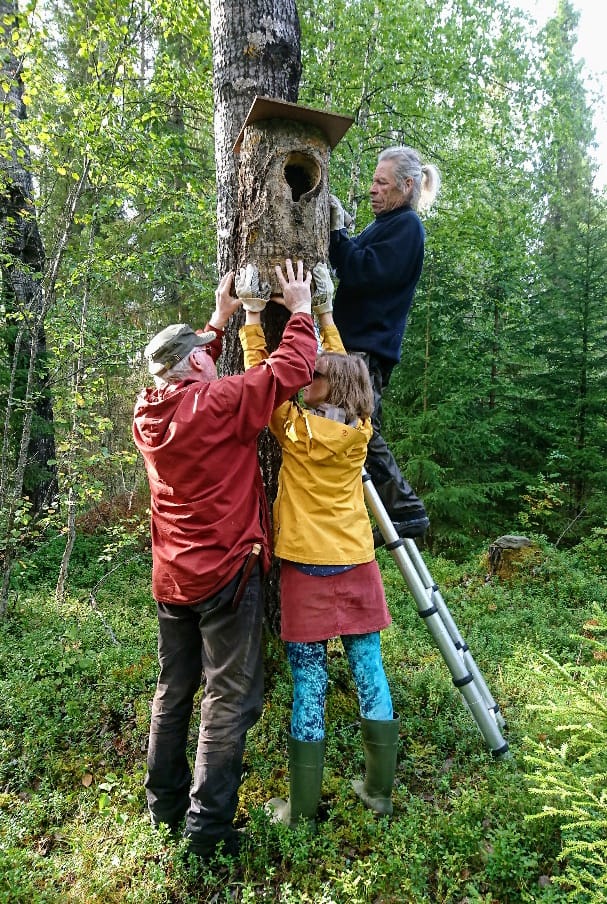 Collaboration with birdwatchers
Finnature is the oldest corporate member of BirdLife Finland. Since 1999, we have supported Finnish bird conservation and research. We also collaborate with birdwatchers and bird ringers, for instance by providing nest boxes to them.
Feeding birds is a simple yet efficient way to help birds in winter
During winter months, Finnature maintains several feeders for birds. We have maintained feeding sites for Golden Eagles in Utajärvi for over a decade already. Feeding of Golden Eagles helps especially the young Eagles to survive over winter but it also improves the breeding success of the adult birds. Garden feeders and forest feeder provide continuous supply of food for small birds but also for Goshawk and Eagle Owl.
Work experience for young people
Finnature works in close collaboration with Luovi Vocational College that offers vocational special needs education and training for young and adults. We offer regular trainee opportunities for Luovi students with special needs.
Villa Finnature Guesthouse
We at Finnature always attempt to be environmentally friendly in our actions. This shows well at our Villa Finnature Guesthouse. Villa Finnature Guesthouse is a former children's home transformed into a guesthouse. We have saved a lot of children's home's movables in use and use recycled material otherwise as well. The heating of Villa Finnature is ecological: downstairs, we use air-source heat pumps to provide even warmth in winter, and upstairs we use a special pellet fireplace – pellets are side products of wood industry. On meals, we use local products when possible. Garbage is recycled.