WILDLIFE WATCHING
Wolverine Watching in Finland
Wolverine adventure awaits in Finland
Finnature offers great possibilities for Wolverine watching and photography – probably the best in the whole world! For our tours, we have carefully selected a site where wild Wolverines visit virtually daily. Indeed, we always partner up with the best wildlife watching and photography sites in Finland.
Wolverine - rarity of the north
Wolverine is a solitary and rare animal which is always on the move. Its appearance resembles that of a small Bear with a long tail. In Europe, Wolverines occupy the northern habitats only in Finland, Sweden, Norway and Russia. There are about 270-300 Wolverines in Finland with individuals crossing over Russian border frequently.
Wolverines have big territories and they can cover great distances each day. They are primarily scavengers and can devour their food quickly in big chunks – even their scientific name Gulo means glutton!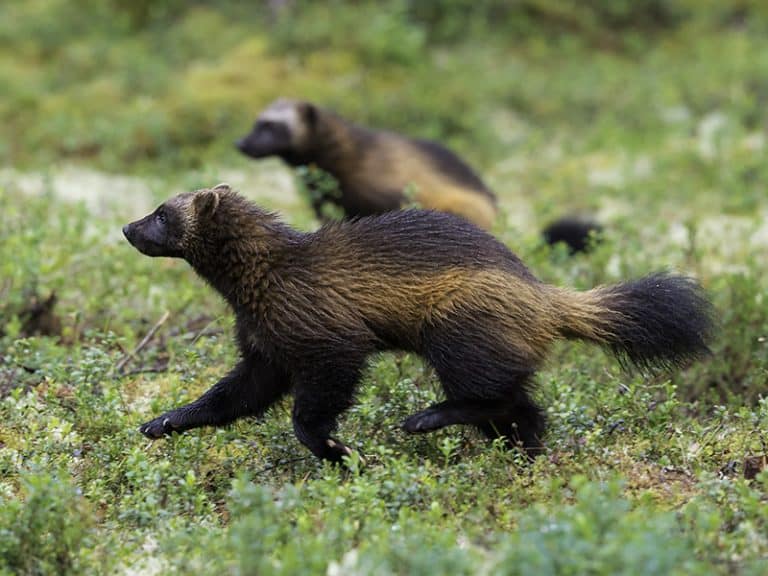 Watching the wild Wolverines of Finland
Our selected site for Wolverine watching and photography offers excellent chances for a rewarding stay in the middle of eastern Finland. Here, wild Wolverines are baited in front of the viewing hides with food, and it is not uncommon to encounter several individuals during only one night. However, the number of individuals varies naturally between empty nights and several visits per night.
Wolverines can be seen all year round as they do not hibernate. We however recommend to visit during spring, summer and autumn when plenty of daylight is available. Wolverine watching from comfortable log cabins and professional photography hides is an unforgettable experience within the animal's natural habitat. Brown Bear is a regular visitor as well, and even Wolf and Lynx have been seen and photographed here. Certainly, only a few places in the world offer this level of service!
Wolverine watching takes place during the night. You enter the hide in the afternoon and emerge again in the next morning. Wolverines are most active during light summer nights. By staying in comfortable hides overnight, you maximize the chances of seeing and photographing these beautiful animals. We recommend at least two nights in a hide for best chances of a Wolverine encounter.
Contact Finnature office for a quote if you are interested in Wolverine watching!